This book has been superseded by this new edition
Go Solo 2 - The Book
---
Go Solo 2 - The Authorized Guide to Version 2 of the Single UNIX® Specification
Including Version 2 of the Single UNIX Specification on CD-ROM

---
Book Overview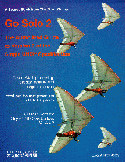 The Open Group 's Source Book covering Version 2 of the Single UNIX Specification is now available.

This book provides complete information on what's new in Single UNIX and comprehensive reference material

What's more, it's authoritative, with papers written by members of the working groups that developed the specification, and the complete 3000 page Single UNIX Specification, Version 2 is included on the CD-ROM in html and pdf formats.

Also included on the CD-ROM is the CI Report application portability test tool.

Preview a sample hypertext manual page.


About the CD-ROM.


Table of Contents.


Register to read the online hypertext specification


Ordering Information.


Other Publications from The Open Group.


---
Topics covered include:
An overview of the history of the UNIX system and the Single UNIX Specification.
Technical papers covering new features include:

POSIX Realtime extension;
POSIX Threads extension;
Threads extensions;
Dynamic Linking;
ISO C Amendment 1 (Multibyte Support);
64-bit systems and data-size neutrality;
Large file support;
Changes for Year 2000;
An overview of POSIX Software Administration.

Case Studies on aspects of the Single UNIX Specification:

The UNIX system on mainframes : OpenEdition MVS, BS2000;
Bringing UNIX system interfaces to Microsoft Windows NT;

Guidance on using the Single UNIX Specification to develop new applications and to port existing applications to UNIX 98 branded systems.
Detailed Migration Reference information is included of the changes between Version 1 and Version 2 of the Single UNIX Specification.
A comprehensive C language Migration Guide detailing the difference between Common Usage C (K&R) and ISO Standard C is also included.
UNIX 98 Branding and testing
and much more...
---
Published : May 1997.
Title:

Go Solo 2 - The Authorized Guide to Version 2 of the Single UNIX Specification
Series:
Source Books from The Open Group
ISBN:
0-13-575689-8
Open Group Document Number:
X909P
Proposed Price:
US$85.00 (retailing at $65 in some bookstores)
CD-ROM:
CD-ROM included with the full set of documentation for the Single UNIX Specification, Version 2
Publication Date:
May 1997
Availability:
Published by The Open Group and distributed by Prentice Hall (PTR) through all good book stores.
Available to order on the web at
For further information please contact Andrew Josey, The Editor, Go Solo 2 or Phil Holmes, Chief Publishing and Information Officer, The Open Group at Apex Plaza, Forbury Road, Reading, Berks., RG1 1AX, UK (Tel: +44 1189 508311, Fax: +44 1189 500110, email a.josey (at) opengroup (dot) org or p.holmes (at) opengroup (dot) org).
Motif, OSF/1 and UNIX are registered trademarks and the'X' Device and The Open Group are trademarks of The Open Group.