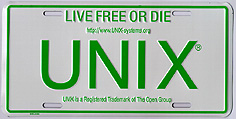 These web pages are a source of information for users on what's new in the Single UNIX Specification, Version 2 :
Articles submitted to Usenix ;Login
Other Articles
Background Information
The Single UNIX Specification, Version 2 aligns with the following:
Alignment with the latest international standards:

ISO/IEC 9945-1:1996 which incorporates ANSI/IEEE Std POSIX 1003.1-1990, 1003.1b-1993, 1003.1c-1995 and 1003.1i-1995 [1003.1b-1993 and 1003.1i-1995 are Realtime extensions . 1003.1c-1995 is Threads extensions.]

The Realtime extensions are an optional feature group, allowing procurement of X/Open realtime systems with predictable , bounded behaviour.

The Threads extensions permit development of applications to make significant performance gains on multiprocessor hardware.

ISO C Amendment 1: 1995 (Multibyte support)

This further enhances X/Open's internationalised applications support.

Large File Summit extensions to permit UNIX systems to support files of arbitrary sizes, this is of particular relevance to database applications.
Extended Threads functions over POSIX threads, based on industry input from Sun, Digital, HP and DCE.
Dynamic linking extensions to permit applications to share common code across many applications, and ease maintenance of bug fixes and performance enhancements for applications.
N-bit cleanup (64 bit and beyond) , to remove any architectural dependencies in the UNIX specification. This is of particular relevance with the ongoing move to 64 bit CPUs.
Year 2000 Alignment to minimise the impact of the millennium rollover.
An optional Software Administration component for packaging software.
The Open Group has also introduced new test suites in support of the Single UNIX Specification, Version 2.